District 6710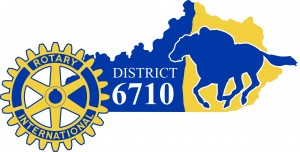 Rotary Club of Auburn
Rotary Club of Bardstown
Rotary Club of Bedford
Rotary Club of Bowling Green
Rotary Club of Bowling Green AM
Rotary Club of Brandenburg
Rotary Club of Buechel-Fern Creek
Rotary Club of Cadiz
Rotary Club of Campbellsville
Rotary Club of Carrollton
Rotary Club of Clinton
Rotary Club of Columbia
Rotary Club of Danville
Rotary Club of Daviess County
Rotary Club of Dawson Springs
Rotary Club of East Louisville Sunrise
Rotary Club of Elizabethtown
Rotary Club of Elkton
Rotary Club of Eminence
Rotary Club of Frankfort
Rotary Club of Franklin
Rotary Club of Fulton
Rotary Club of Glasgow
Rotary Club of Grayson County
Rotary Club of Greensburg
Rotary Club of Hardin County A.M.
Rotary Club of Hardinsburg
Rotary Club of Harrodsburg
Rotary Club of Henderson
Rotary Club of Hickman
Rotary Club of Hodgenville
Rotary Club of Hopkinsville
Rotary Club of Horse Cave
Rotary Club of Jeffersontown
Rotary Club of LaGrange
Rotary Club of Lawrenceburg
Rotary Club of Lebanon
Rotary Club of Louisville
Rotary Club of Madisonville
Rotary Club of Marshall County
Rotary Club of Mayfield
Rotary Club of Muhlenberg County
Rotary Club of Murray
Rotary Club of Owensboro
Rotary Club of Owenton
Rotary Club of Paducah
Rotary Club of Princeton
Rotary Club of Prospect/Goshen
Rotary Club of Radcliff
Rotary Club of Russellville
Rotary Club of St. Matthews
Rotary Club of Scottsivlle
Rotary Club of Shelbyville
Rotary Club of South Louisville/Okolona
Rotary Club of South Oldham County
Rotary Club of Southwest Louisville
Rotary Club of Springfield
Rotary Club of Union County
Rotaract Clubs in District 6710
Rotary Club of Frankfort Bylaws
The Rotary Foundation was created in 1917 by then-Rotary president Arch C. Klumph. It was designed as an endowment fund "to do good in the world" and is supported solely by voluntary contributions. Rotarians strive to advance world understanding and peace through the works undertaken by the Foundation. These works include:
· PolioPlus – Rotary's effort to eradicate polio on a global scale. (click here to see YouTube video from Rotary International)
· PolioPlus Partners – allows support to specific social mobilization and surveillance activities in polio-endemic countries.
· Health, Hunger and Humanity Grants – large scale projects to alleviate hunger, improve health, or improve human development.
· Matching Grants – Matching funds for international service projects of Rotary Clubs and districts.
· Individual Grants – Made to individual Rotarians to support travel to implement international projects.
· Disaster Recovery – Allows donations to specific disaster recovery efforts.
· World Peace Fellowships – Sponsors study at one of the six Rotary Centers for International Studies.
· Ambassadorial Scholarships – One of the large international scholarship programs in the world.
· Grants for University Teachers – Awarded to faculty members to teach in a developing nation.
· Group Study Exchange – Supports a team of non-Rotary professionals to travel and promote international peace and understanding through a six-week visit to another country.
The Rotary Foundation truly lives up to its original intent and allows all Rotarians to practice "Service above Self."